SPOTLIGHT Presentation Series
THEATRE SERIES SUBSCRIPTIONS
The SPOTLIGHT Theatre Series includes the best national and international touring performances in theatre. Our 2022-2023 Season is filled with stories from our past and meditations on our future that come alive through song, projection, and even acrobatics!

Theatre Series subscribers get the very best seats for the very best price: 5 Shows for just $150, including the extremely limited run of Prophecy Fog!
New and renewing subscribers can visit TicketSeller.ca or call our Box Office at 250-549-SHOW (7469) to secure their seats.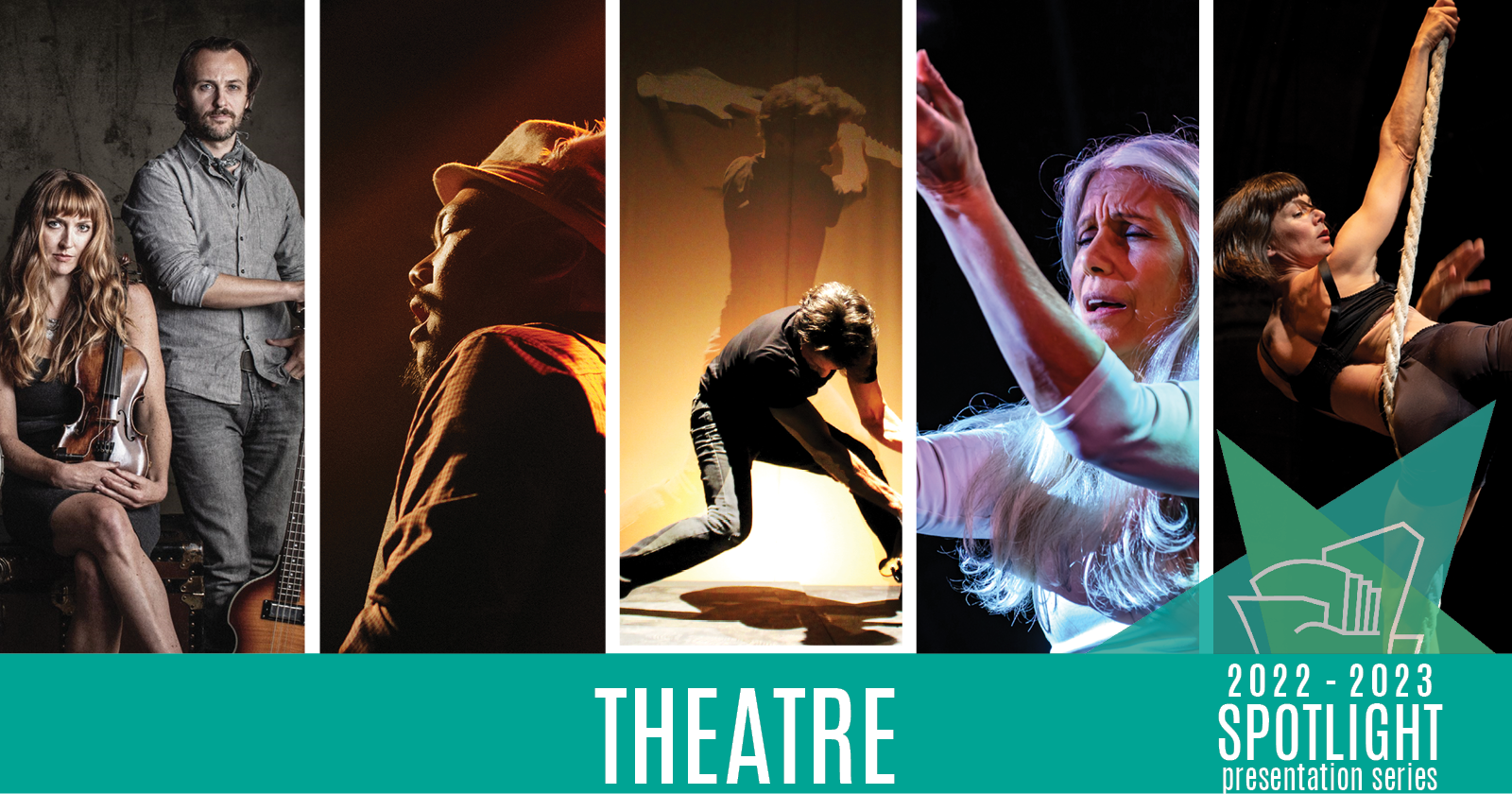 THE CAVE
A CABARET ABOUT WHY ALL THE ANIMALS SOUGHT REFUGE
Music by John Millard
Lyrics by Tomson Highway
Book by Martha Ross
Directed by Adam Paolozza
Thursday, October 20 at 7:30PM
A ragged group of animals flee from a vicious forest fire and seek refuge in Bear's cave. Waiting out the inferno, they reflect on their lives, their lost garden, and their impending doom. The MC hilariously played by John Millard tells jokes and stories and gives political context to the songs. This beautiful dystopian cabaret is told through songs that hang in the air amidst joyous humor in this poignant and entertaining cabaret.
RIDGE
By Brendan McLeod and the Fugitives

Saturday, November 5 at 7:30PM
A visceral music storytelling show centred on the Battle of Vimy Ridge that probes difficult yet necessary questions about how and why we grieve. Featuring inventive musical interpretations of WWI soldier songs – which were recognized with the 2022 JUNO nomination for Best Traditional Roots Album – Ridge is a vivid, kinetic ride through history, as well as an intimate, personal examination of our connection to the past that passionately argues against the exploitation of young lives.
BOOM X
The Music, Politics, and Culture of Generation X
A Kidoons in Association with Theatre Calgary and 20K Collective Production
Written, Directed, and Performed by Rick Miller
Saturday, January 14, 2023
He's back! BOOM X is the second of Rick Miller's trilogy of solo multimedia performances that capture history and pop culture through stunning visuals and mind-blowing impersonations. The 70s, 80s, and 90s boom to life on stage with Miller playing over 100 characters from the days of disco, the oil crisis, Watergate, the cold war, video games, punk rock, and more.
RAVEN
By Still Hungry
Wednesday, May 3 at 7:30PM
Warm-hearted, funny, smart, and accessible: Experience RAVEN, a powerful and refreshingly different piece of contemporary circus theatre about motherhood. Based on their own experiences as artists and mothers, the performers intelligently and strikingly shed light on the stigma of the German term "Rabenmutter" (raven mother) meaning "selfish mother."
BONUS SHOW! PROPHECY FOG
Created and Performed by Jani Lauzon
Directed by Franco Boni with Environmental Design by Melissa Joakim
March 23, 2023

Prophecy Fog begins with a journey into the Mojave Desert in search of Giant Rock, armed with the question: Can a site still be sacred if it has been desecrated? Performed in the round, Prophecy Fog weaves together the performance skills of Juno-nominated veteran Jani Lauzon with evocative environmental design and projections that transport the audience beneath the desert skies.
Please note that Prophecy Fog is a general admission performance and patrons are seated both on chairs and on cushions on the floor. Patrons with mobility concerns are encouraged to select 'chair' seats when purchasing tickets online or contact the Ticket Seller Box Office to reserve their seating. Tickets are extremely limited - just 50 seats per performance. While tickets are available, you will be prompted to add Prophecy Fog to your cart when purchasing your Theatre Series subscription online.
Subscribe and Save!
You can now personalize your SPOTLIGHT Subscription & save. We now have three subscription packages available: classic, pick 5 and pick 10.
Upcoming Events