SPOTLIGHT Presentation Series
KIDS SERIES SUBSCRIPTIONS
Our SPOTLIGHT Kids Series features shows recommended for children ages 5 and over.
Kids Series subscribers get the very best seats for the very best price: 4 Shows for just $40 - that's cheaper than the movies!
New and renewing subscribers can visit TicketSeller.ca or call our Box Office at 250-549-SHOW (7469) to secure their seats.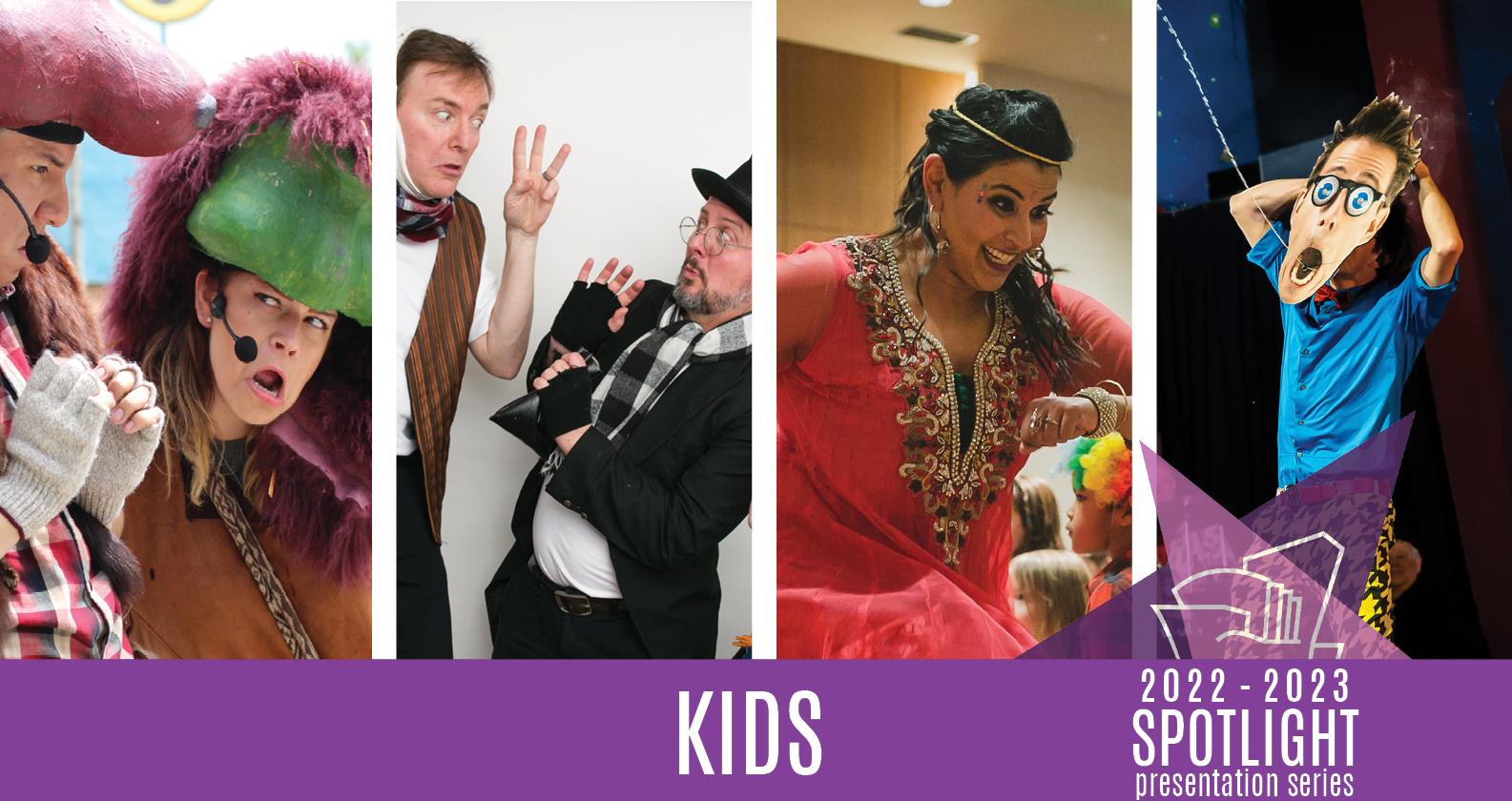 TH'OWXIYA - THE HUNGRY FEAST DISH
By Joseph A. Dandurand
Sunday, November 6 at 2:00PM
Come enjoy the traditional Coast Salish and Sto:lo music, masks, and imagery while learning how Raven (Sqeweqs), Bear (Spa:th), and Sasquatch (Sasq'ets) trick a hungry spirit and save Kw'at'el and their family from becoming the feast!
A CHRISTMAL CAROL
DUFFLEBAG THEATRE
Sunday, November 27 at 2:00PM
What better way to celebrate Christmas than with DuffleBag Theatre's unique twist on the Dicken's classic A Christmas Carol? As always, the main parts are played by audience members and the resulting hilarity promises a memorable experience for all!
BODY POSITIVE BOLLYWOOD DANCE SHOW
By Karima Essa
Sunday, January 29 at 11:00AM
Karima's Bollywood workshop-style dance show infuses music, breathing, and ideologies from ancient scholars from the Middle East and South Asia. Students of all shapes and sizes will leave inspired to love themselves inside and out, on and off the dance floor!
ALEX ZERBE'S ZANIAC COMEDY SHOW
Saturday, March 4 at 2:00PM
He's baaaaack....! With the energy of ten thousand suns, The Zaniac shines like a comedy beacon as he bounces from one end of the stage to the other like an untamed rubber band. Jaws will drop and eyes will pop as Alex juggles bowling balls, giant knives and slices vegetables in half with a flying playing card.
SAKASAKA
*NEW!* (Just added)

By La Compagnie Zolobe Théâtre de clowns

Saturday, May 27 at 2:00PM
Joyful, silly, and… soaking wet! Sakasaka is a delightful comedy for all ages that will add joy to everyone's day! Created by Madagascar's La Compagnie Zolobe, Sakasaka means "thirsty" in Malagasy. Using only a mop, bucket and a few bottles of water, these three clowns take the audience on many hilarious adventures that gently and sincerely explore the preciousness of water.
Subscribe and Save!
You can now personalize your SPOTLIGHT Subscription & save. We now have three subscription packages available: classic, pick 5 and pick 10.
Upcoming Events