SPOTLIGHT Presentation Series
DANCE SERIES SUBSCRIPTIONS
The SPOTLIGHT Dance Series features the best dance companies and performances from Canada and around the world as chosen by our Artistic Director. This season's performances span genres from classical masterpieces to contemporary hip hop including the Vernon premiere of Ballet Edmonton with their new mixed repetoire featuring a contemporary reimagining of Swan Lake. Ballet Kelowna presents the powerful and compelling taqəš by Vernon-born choreographer Cameron Fraser-Monroe and audience favourite Ballet Jörgen returns with their romantic Cinderella, just in time for Valentine's Day.
Dance Series subscribers get the very best seats for the very best price: 5 shows for just $169! (25% off)
New and renewing subscribers can visit TicketSeller.ca or call our Box Office at 250-549-SHOW (7469) to secure their seats. Single tickets go on sale on September 1, 2022.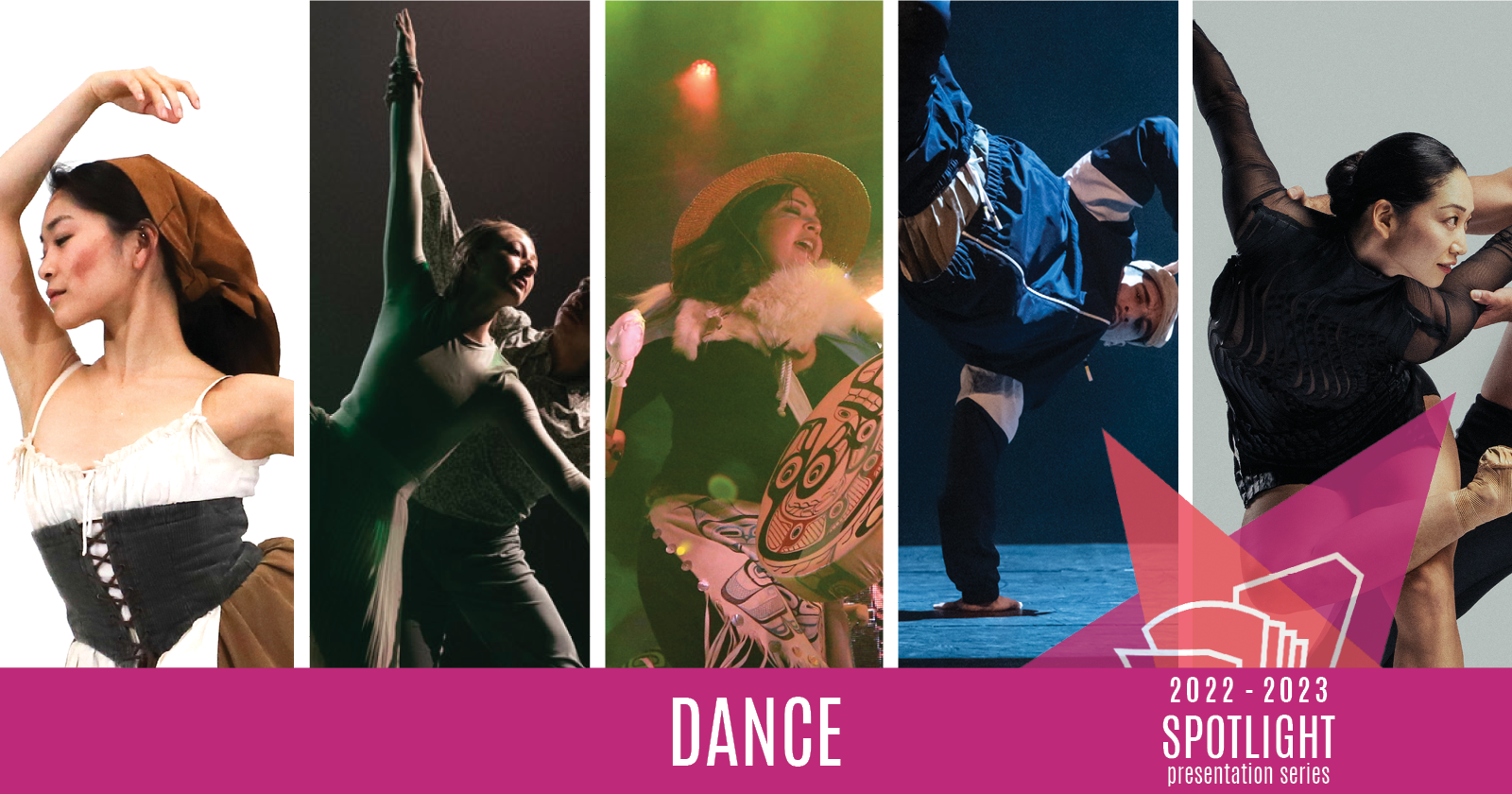 DAKHKA KHWAAN DANCERS AND DJ DASH
Friday, September 23 at 7:30PM
The Dakhká Khwáan Dancers are a National Award-winning Inland Tlingit dance group based out of Whitehorse, Yukon Territory. Together with DJ Dash, they fuse traditional singing, dancing and storytelling with electronic music to create vibrant performances that are energizing and transformative.

taqəš AND OTHER WORKS | BALLET KELOWNA
Saturday, November 12, 2022 at 7:30PM
The taqəš and Other Works program features a stunning line-up of signature works from Ballet Kelowna's contemporary ballet repertoire. With a new, uplifting ensemble work by Robert Stephen, Guillaume Côté's riveting Bolero, and Cameron Fraser-Monroe's powerful and compelling taqəš, this dynamic program promises to captivate audiences.
CINDERELLA | BALLET JÖRGEN
Saturday, March 25 at 7:30PM
One of Ballet Jörgen's most popular classical ballets, Cinderella is a touching ballet that uplifts and makes people laugh. Set to the beautiful music of Sergei Prokofiev, it is the epitome of classical ballet.
IN MY BODY | BBOYIZM / CRAZY SMOOTH
Friday, March 10 at 7:30PM
It's said that the bravest thing a dancer can do is grow old – for a b-boy/b-girl, the experience is approaching heroic. In keeping with hip-hop culture, b-boys/b-girls present a façade of confidence and invincibility as they engage in battles to prove their value and establish their dominance. The resulting vocabulary is one of the most physically demanding and visually impressive of the dance genres and leaves no room for the expression of vulnerability.
BALLET EDMONTON
Friday, April 28 at 7:30PM
Ballet Edmonton presents a triple bill mix program of outstanding new works by celebrated choreographer and Artistic Director Wen Wei Wang and Brazilian born choreographer Diego Ramalho.
"SWAN, choreographed by Wen Wei Wang, proved itself as a stunning, flawless endeavour that had its audience breathless by the time the curtain closed…"
– Lords of Dogwood
Subscribe and Save!
You can now personalize your SPOTLIGHT Subscription & save. We now have three subscription packages available: classic, pick 5 and pick 10.
Upcoming Events