It's time to do shows! Vernon & District Performing Arts Centre to reopen on March 11
New stage will debut at I Am Woman, Hear Me Laff!

VERNON, BC— The ground has been laid, the lights have been hung, and the curtain is about to rise. The Vernon & District Performing Arts Centre Society (VDPACS) is pleased to announce that restoration efforts are nearing completion and the Vernon & District Performing Arts Centre will reopen for regular performances starting on March 11, 2023.
"The restoration has truly been a herculean effort," said Executive Director Jim Harding. "Other theatres that have experienced similar damage have taken six months to a year to reopen. The speed with which we are back up and running is a testament to the hard work of our staff and contractors."
The Vernon & District Performing Arts Centre has been closed since early February for removal and reconstruction of the stage floor following a flood that took place in December. With the stage floor replaced, a final push is underway this week to touch up paint and reinstall theatrical equipment before doors open on Saturday, March 11 for one of Vernon's most popular comedy traditions: I Am Woman, Hear Me Laff!
"We couldn't have picked a better show to reopen with," says Harding. "After all the work since the 'December Deluge,' our staff who have worked so hard deserve a good 'LAFF!'"
March 11 marks the beginning of a jam-packed spring season of comedy, music, theatre and dance. The North Okanagan Children's Festival returns on March 18 and 19 with fun for the whole family. NOCCA presents the world-class Valencia Baryton Project performing works of Hadyn on March 20 while the OSO's Orchestral Rock Odyssey on April 2 will rock the stage the most iconic music of the progressive rock era. Ballet Jörgen's sparkling Cinderella will delight classical ballet lovers on March 25. And much more - visit ticketseller.ca for the full schedule and ticket information.
"We are so excited to welcome everyone back to the theatre," said Artistic Director Erin Kennedy. "Putting on performances is truly a labour of love for us. We're thrilled to be able to share the joy of live events again."
"The VDPAC acknowledges the work of the entire staff, and our building maintenance and technical staff especially, for a truly stellar team effort to address all the unimaginable concerns that come with such a potentially catastrophic event," says Harding. "I also wish to thank our service-providers, restoration services, insurers, suppliers, contractors and our partners at the RDNO for stepping-up so quickly to help us get to re-opening as soon as possible."
-30-
About Vernon & District Performing Arts Centre
The Vernon & District Performing Arts Centre Society is a registered non-profit, charitable organization devoted to fostering artists, their work, and live performance in all genres and for all ages. The Society operates the Performing Arts Centre (VDPAC) on behalf of the Regional District of North Okanagan (RDNO) and with the support of 30+ staff and over 200 volunteers. Each year, we present our SPOTLIGHT Season of over 30 diverse performances, complemented by over 125 concerts, festivals, and special events. We select professional touring productions to entertain, enlighten, move and amuse our patrons. Altogether, they offer audiences of all ages a world of unforgettable live theatre experiences. Please visit: https://vdpac.ca/ & https://ticketseller.ca/
Facebook: @vdpac
Instagram: @vernonperformingarts
Video: https://fb.watch/j8RhTEzrKw/

The tarps come down on the Vernon & District Performing Arts Centre's main stage.
For more information and interview requests, media can contact:
Angela Pells
Marketing Director
250-542-9355
[email protected]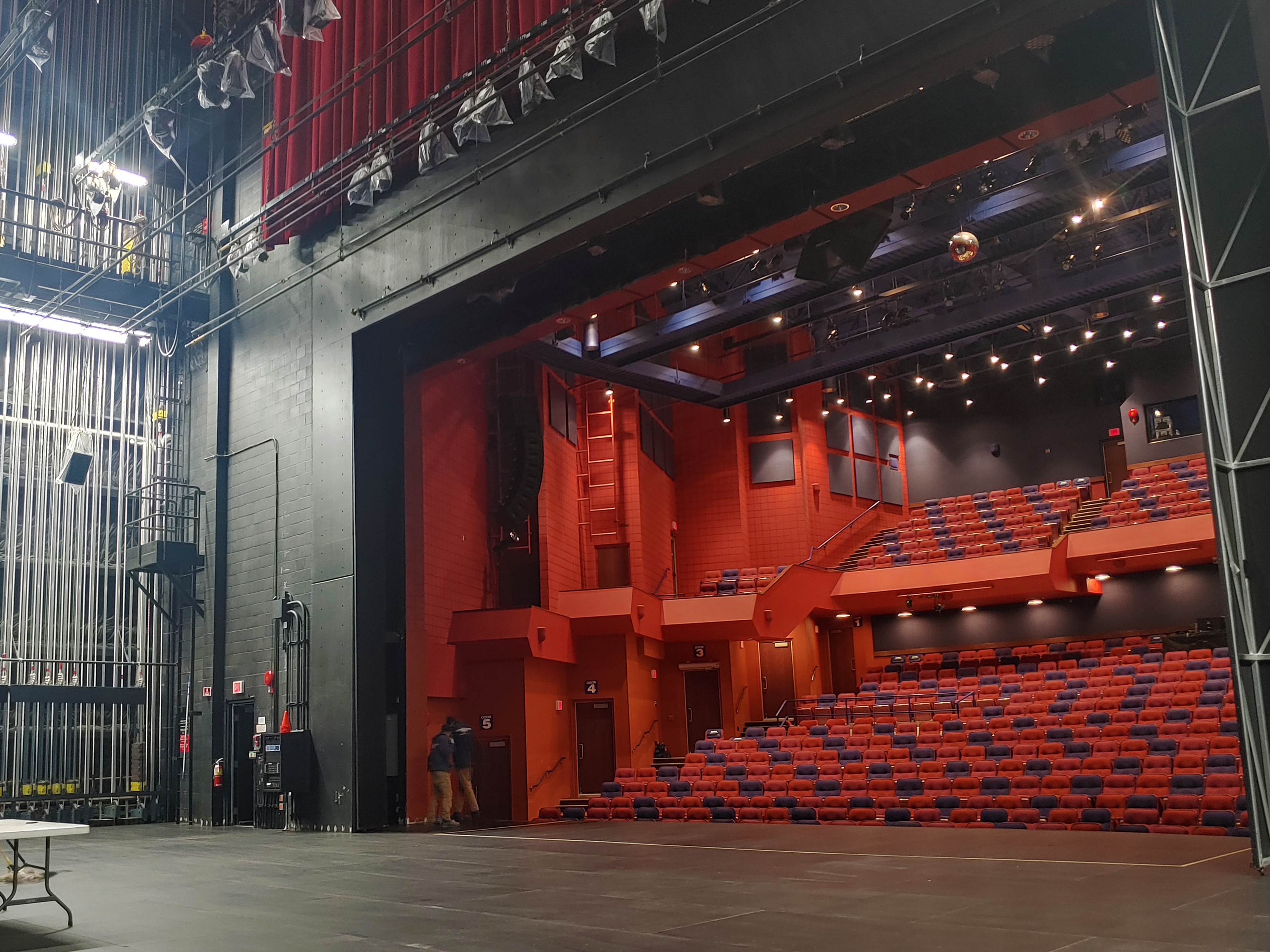 ← Back to News